Business Development Director Spends Remote Work Program in Colombia
Maria Noordover, Howe Corp's new business development director, spent the month of November in Colombia, South America on a month-long remote work program. "I had the honor of working 30+ days in Bogota, Colombia to develop the market thanks to Howe Corporation's flexible remote work policy. I was able to immerse myself in a key market for Howe and understand the culture better and build closer relationships with customers. In addition, the work program gave me the opportunity to connect with my heritage and introduce my children to the beauty of Colombia and opportunities to make a difference", said Maria.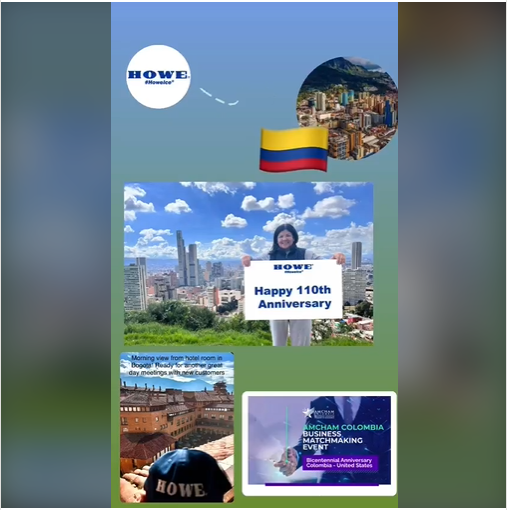 Introducing Howe Flake Ice Equipment to the Colombian Market

Howe Corp's flake ice equipment reduces operational costs and improves processes for both industrial and retail applications. In addition, Howe manufactures the most energy efficient ice flaker available and produces a wide range of models and features to meet different needs.
During her trip, Maria spoke about Howe Corp's flake ice equipment solutions with owners and managers of:
Meat and poultry processing plants
Seafood processing plants
Commercial fishing
Bakery plant
Cheese plants
Flower and produce plants
Supermarkets
Food service companies
Colombian Retailers and Organizations
Maria's trip was enriched by Colombian organizations and many businesses:
1. The team AmCham Colombia put together a great Business MatchMaking Event! Maria is looking forward to working together to grow the Howe business in Colombia.
2. Price Waterhouse Colombia provided an excellent report about the current conditions and main economic indicators, as well as a summary of the essential regulatory aspects for companies and investors. Thank you Daniel Andres Rodriguez!
4. Thank you to all the great Colombian Retailers that met with Maria to discuss ways that Howe Ice can improve their bottom line in their seafood and produce departments. Maria enjoyed getting to "finally meet Howe customers from Colombia in person."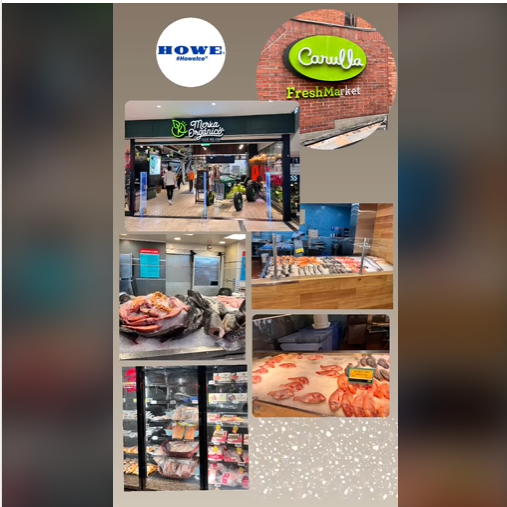 Insights into the Colombian Retail Market Gained through Remote Work
Maria was able to experience the Colombian retail market first-hand during her month-long stay in the country. The Colombian retail market is going through some dramatic changes post COVID:
Discount, "no frills" stores have increased by 30%
Neighborhood convenience stores have increased by 45%
Consumers are eating more at home and eating out less
Increased seafood and produce sales
Increased preference for USA made capital equipment over Asian made
With these changes in mind, there are great opportunities for Howe Corporation to work with businesses in Colombia to:
Reduce operating costs (zero water waste and many models are energy star certified) and
Reduce labor costs (fill displays in the morning and walk away).
A Week of Thanks and Giving
Maria shares her special experience over Thanksgiving week: "I had the privilege of spending time during Thanksgiving week with the children of an outstanding organization called "Pintando Caminos" with my family who flew down last week. All I can say is we received SO much more than we gave. Everyone should experience the power of giving! Thank you Howe for being a great example of supporting your local community but also the export markets where Howe Ice can be found around the world."
Maria continues: "As parents we always try to find ways to teach our children to pay it forward no matter what your circumstance. After 20 years of supporting Pintando Caminos, our now college age kids finally got to experience the magic that their support (from age four to now) requesting donations for Pintando in Lieu of Gifts; collecting clothes and toys after every season and shipping boxes; lemonade stands so the kids of Pintando could have at least one Holiday gift...). I can't tell you how much hope it gave me to see not only our children feel committed to continue making a difference to the 130 children living in extreme poverty but also to feel the joy and gratefulness of the children and staff. We were so lucky to be there during their 20-year anniversary celebration and able to hear alumni of Pintando share their journey and see how well they are doing now. Many alumni are now volunteers."
Long-Term Impact of Howe's Investment in the Community
The children who benefit from Howe's work will be able to change their cycle of poverty, to overcome the difficulties present in their environment and succeed at becoming valued and supportive human beings, capable of earning a decent living. The ultimate goal is for each child to grow into an adult who gives back in their communities and in their productive lives in Colombia.
If you are interested in supporting this worthy program, please donate here.
110-Year Anniversary
At Howe Corporation we are proudly celebrating our 110-year anniversary. Maria had the opportunity to celebrate with our new and longtime Colombian customers.
Please contact Maria at maria@howecorp.com to learn more about her adventures!
In addition to manufacturing high quality ice flakers in Chicago, Illinois, Howe Corp is proud to provide many great employment opportunities, including internships and remote work programs. Contact us today to learn more.