Howe Flake Ice Plays a Role in Your Favorite Super Bowl Sunday Foods
Super Bowl Sunday is almost here! If you're one of the 100 million Americans who are planning to host or attend a Super Bowl party this year, you're probably going to be making (and eating) some delicious comfort foods as part of the festivities. You may not realize it, but flake ice is used every day in food production and merchandising – including foods that go into your favorite Super Bowl finger foods.
Flake ice is the ideal ice for food production processes because it has the most surface contact area of any other form of ice. This translates into more cooling capacity than chilled water or cubed/crushed ice! HoweIce has many benefits for food processing:
Because HoweIce is harvested at such a low temperature, HoweIce is sub-cooled ice, which provides much more cooling capacity and prolonged product freshness.
HoweIce is easily the preferred moldable ice because it creates optimum heat transfer and it's excellent for merchandising.
With its high surface contact area and high BTU content, HoweIce has excellent cooling properties for rapid cooling of food products.
Howe Flake Ice Plays a Role in Your Favorite Super Bowl Sunday Foods
The products that use ice in production, harvest, or display are: chicken, mozzarella cheese, fruits, seafood, bakery (donuts, cookies, pies), sausage, snacks.
Super Bowl Menu Ideas and Recipes
Baked Garlic Chicken Wings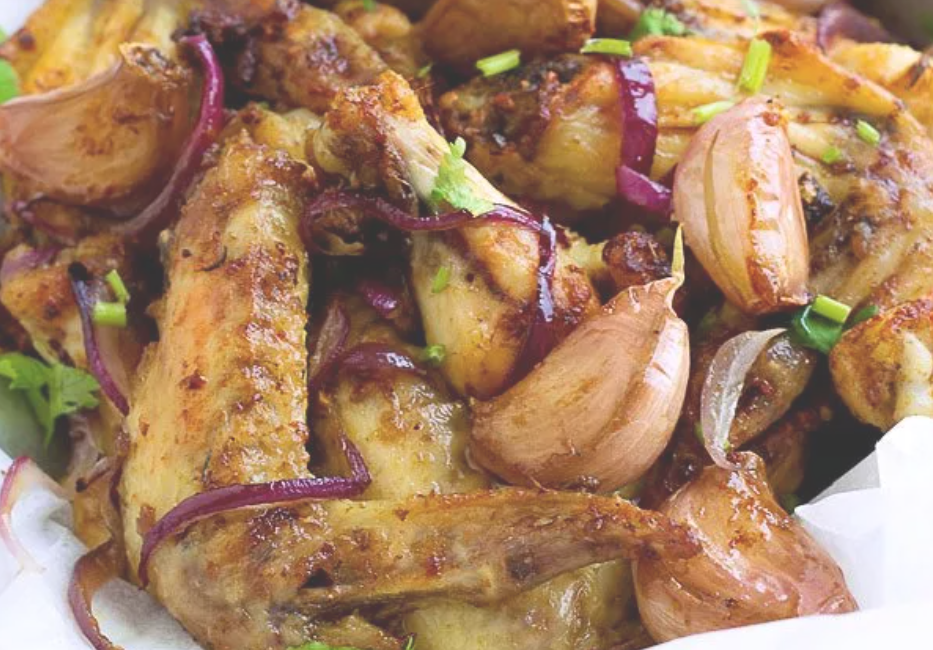 PHOTO CREDIT: © EATWELL101.COM
Ingredients:
4 pounds (1.8kg) chicken wings, cut in half at the joint
8 garlic cloves, not peeled
1 red onion, sliced
1/4 cup chopped cilantro
The instant marinade
1/4 cup olive oil
1 1/2 bouillon cube
1 coffee spoon salt
1/2 tablespoon 5 spices blend (or black pepper)
1 tablespoon Cajun spices blend (optional)
1 tablespoon smoked paprika
1 tablespoon yellow curry powder
2 garlic cloves, peeled and grated
1 coffee spoon granulated sugar
The dipping sauce
1/3 cup fresh red bell pepper, chopped
1/2 fresh tomato, chopped
1/4 teaspoon salt
Black pepper, to taste
Instructions:
1. Preheat your oven to 450°F (230°C).
2. Lightly oil two baking sheets and divide chicken wings between them, season with salt.
3. Place in the oven and bake until deep golden brown and cooked through—about 25 minutes—rotating sheets and flipping chicken half way through.
4. meanwhile prepare the dipping sauce: combine red pepper, tomato, and salt in the bowl of a food processor until emulsified; set aside.
5. While chicken wings are cooking, combine all the ingredients for the marinade in a large bowl and mix well.
6. When chicken wings are cooked, transfer to the bowl with marinade and mix thoroughly to coat.
7. Return chicken wings to a baking sheet, add garlic cloves, red onion and bake until set, about 10 minutes more. Allow to cool and sprinkle with fresh cilantro before serving along with the dipping sauce.
Bacon Wrapped Shrimp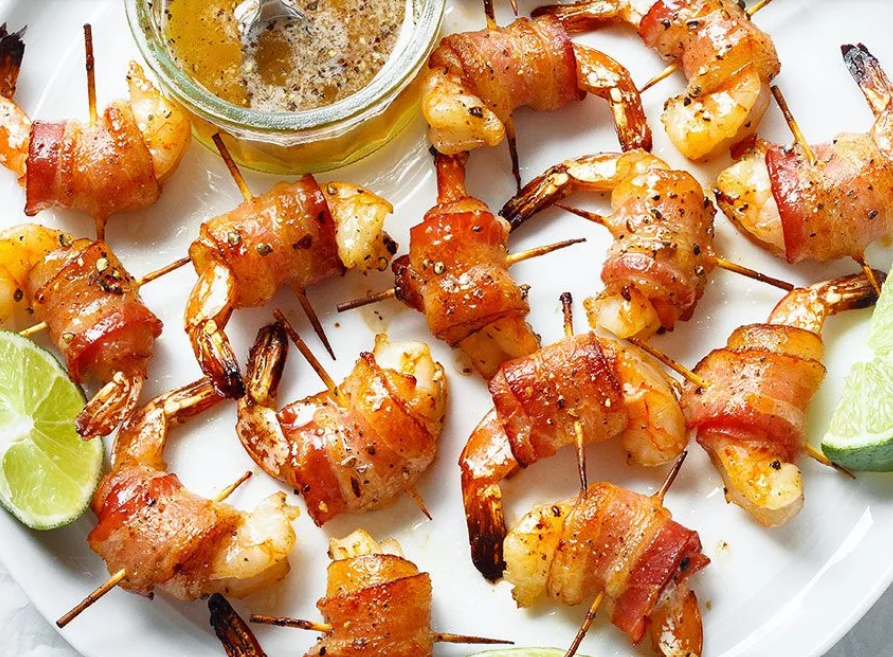 PHOTO CREDIT: © EATWELL101.COM
Ingredients:
1lb (450g) large shrimp, peeled and deveined, tails intact
14 bacon slices
2 tablespoons honey + 1/3 cup for the dipping
3 tablespoons lime juice + 3 tablespoons for the dipping sauce
3 teaspoons minced garlic
1 teaspoon oil
1 teaspoon finely grated peeled fresh ginger
Salt and freshly ground pepper
Directions:
1. Preheat your oven to grill or broil setting on medium-high heat. Place a rack on the top third half of the oven, just below the middle of the oven.
2. Combine 2 tablespoons honey, 3 tablespoons lime juice, garlic, oil, and ginger in a shallow bowl. Adjust seasoning and add the shrimps and allow to marinate for 10 minutes.
3. In the meantime, soak up wooden toothpicks in a bowl of water and cut bacon slices in half.
4. Wrap one bacon slice around each shrimp and secure with a toothpick. Arrange the prawns in a single layer on a lined baking sheet.
5. Grill or broil for 10 minutes until bacon is crispy and sizzling. Turn and grill or broil for 5 minutes more until shrimps are cooked through.
6. While shrimp/prawns are grilling, prepare the dipping sauce by combining 1/3 cup honey and 3 tablespoons lime juice in a small bowl. Serve the shrimp with the sauce. Enjoy!
Shrimp Lettuce Wraps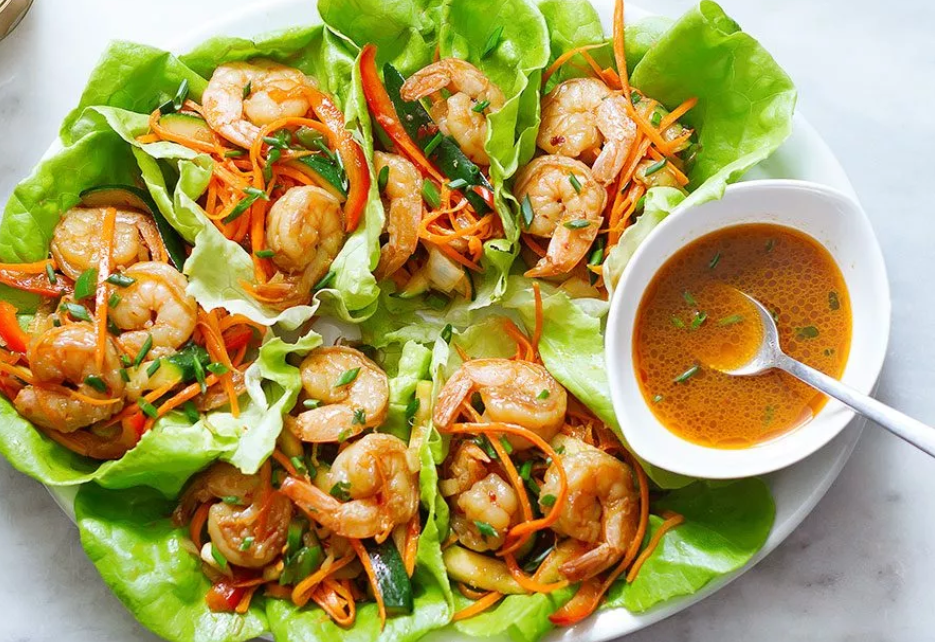 PHOTO CREDIT: © EATWELL101.COM
Ingredients:
1 tablespoon olive oil
1 pound (450g) raw shrimp, peeled and deveined
1 red bell pepper, sliced
2 cloves garlic, grated
1 onion, diced
1/4 cup low sodium soy sauce
1 tablespoon freshly grated ginger
1 teaspoon crushed red chili pepper
1/2 teaspoon cumin
1 zucchini, julienned
1 or 2 carrots, julienned (optional for low-carb, keto diet)
2 jalapeños, seeded and diced
Fresh chopped chives
Kosher salt and freshly ground black pepper, to taste
1 head Boston lettuce (or Bibb, butter…)
The lettuce wraps peanut sauce
4 teaspoon peanut butter
2 teaspoons rice vinegar
2 teaspoons coconut milk
3 tablespoons low sodium soy sauce
2 tablespoons honey (optional for low-carb, keto diet)
1-inch fresh ginger, grated
1 clove garlic, grated
Loaded Sweet Pepper Veggie Nachos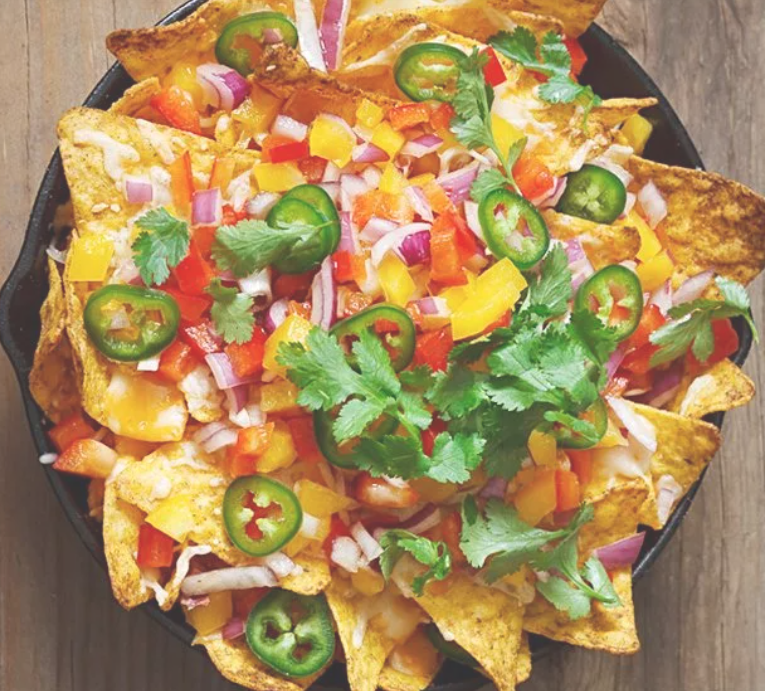 PHOTO CREDIT: © EATWELL101.COM
Ingredients:
Corn tortillas
1 cup shredded cheddar cheese
1 cup shredded mozzarella cheese
1/2 red bell pepper
1/2 yellow bell pepper
1/2 cup sliced jalapeños
1 red onion, minced
1 cup cilantro leaves with tender stems
1 tablespoon olive oil
Kosher salt, freshly ground pepper
Directions:
Preheat your oven to 425°F (220°C). Arrange half of chips on a rimmed baking sheet lined with foil or a large cast iron skillet. Top with half of each cheese and repeat the layering with remaining chips and cheese. Bake in the oven until cheese is melted and bubbling, about 5 minutes.
Best Caprese Skewers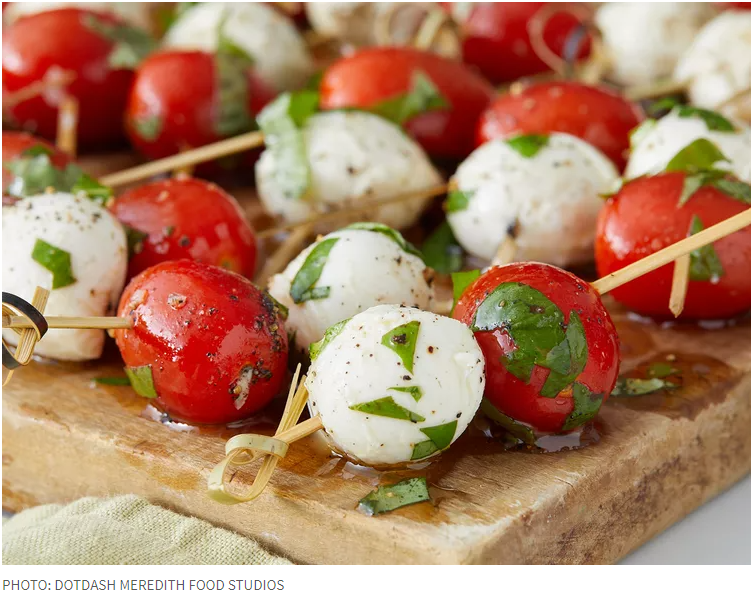 Ingredients:
20 grape tomatoes
10 ounces mozzarella cheese, cubed
2 tablespoons extra virgin olive oil
2 tablespoons fresh basil leaves, chopped
1 pinch salt
1 pinch ground black pepper
20 toothpicks
Directions:
Toss tomatoes, mozzarella cheese, olive oil, basil, salt, and pepper together in a bowl until well coated.
Skewer one tomato and one piece of mozzarella cheese on each toothpick.
Bite Size Mini Taco Bowls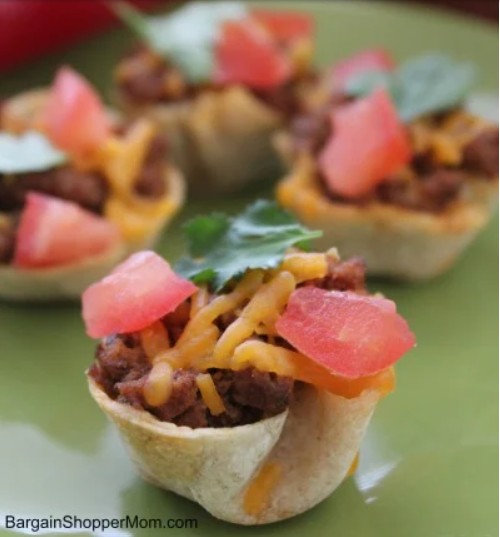 Ingredients:
1 lb Ground Beef
2 tbsp Taco Seasoning
1 diced Tomato
6 Jalapeno Slices
12 Corn Tortillas
Shredded Cheddar Cheese
Instructions:
Brown ground beef and drain.
Dice jalapenos and add to beef.
Add 1/4 cup water and taco seasoning and cook over medium heat until water is absorbed.
Reduce heat to low.
Heat each corn tortilla in microwave for 30 seconds to soften.
Using a 3-inch cutter (like a jar lid) cut 2 circles from each tortilla.
Press each circle into the cup of a mini muffin pan, folding sides as needed.
Place in 350 heated-oven for about 12 minutes (until tortilla is crispy).
Place each shell on cooling rack and fill with taco meat.
Top with cheese and diced tomato and a leaf of cilantro (optional).
Spicy Margaritas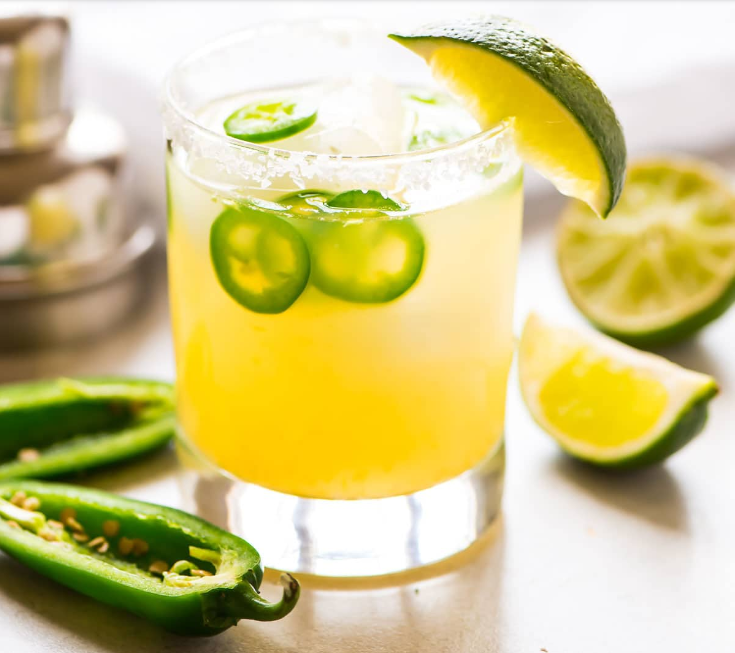 PHOTO CREDIT: wellplated.COM
Ingredients:
Kosher salt and a lime wedge to rim the glass
Ice
2 ounces silver tequila about 3 tablespoons
3 tablespoons freshly squeezed lime juice about 1 large or 1 1/2 small limes; do not use bottled lime juice, as it will have a very off flavor
1 tablespoon freshly squeezed orange juice about 1/2 small/medium orange
1 1/2 teaspoons light agave nectar add 2 if you prefer a sweeter margarita
1/4 to 1/2 jalapeño pepper cut into thin, round slices (use more for more spice)
Lime wedges additional jalapeño slices for serving
Directions:
Rim the glass: Pour a thin layer of salt onto a small plate. Rub a lime wedge around the top edge of your glass to moisten it, then dip the glass into the salt so that it sticks, tapping all the way around. Fill the glass with ice and set aside.
Fill a small cocktail shaker with additional ice. Add the tequila, lime juice, orange juice, agave, and jalapeño slices. Tightly close and shake vigorously for 30 seconds (it's longer than you think). Strain into the rimmed glass. Enjoy immediately, garnished with lime wedges and additional jalapeño slices.
Football Helmet Fruit Platter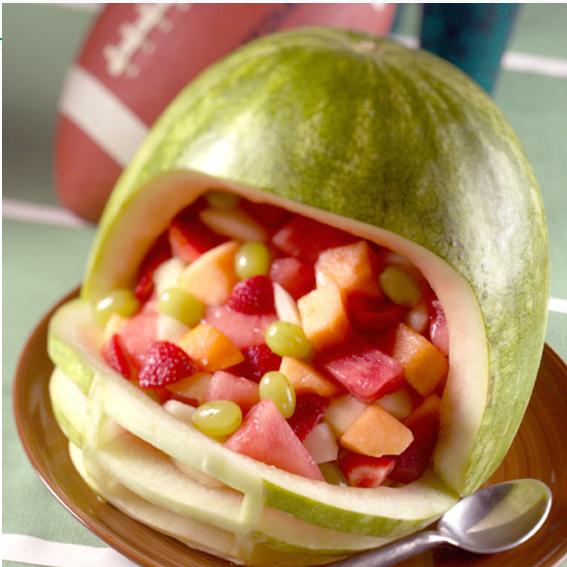 PHOTO CREDIT: watermelon.org
Ingredients:
One watermelon
Strawberries
Grapes (seedless red or greed)
Honeydew
Cantaloupe
Directions:
Using a round watermelon, slice off a piece approximately 4 inches down on the stem end. Set cut piece aside to use later for mouth guard. Make a curved cut from one side of the melon to the other to cut out the face portion of the helmet. Hollow out the entire melon.
Take the piece that was set aside in step #1 and place cut side down. Place knife at the center of stem end and cut in half. Take one half of cut piece and draw mouth guard grid with a sharp pencil or thin marker as shown in picture. Remove flesh and using a small knife, cut out grid design.
To assemble, place mouth piece on a plate. Place the helmet piece on top, pushing the mouthpiece ends towards the inside of the helmet. You may need to carve a little out of the helmet ends to fit the mouth grid comfortably.
Fill with fruit salad.
Tailgate Apple Pies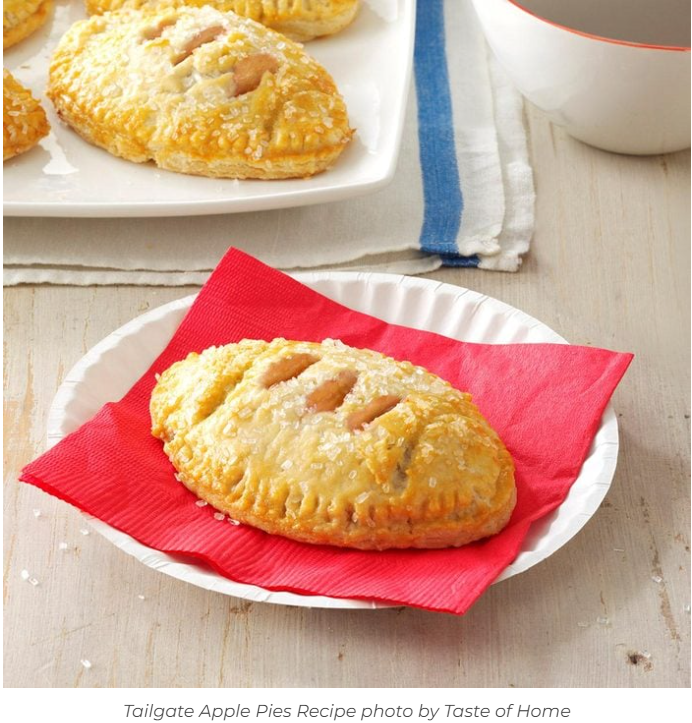 Ingredients:
3-3/4 cups all-purpose flour
3/4 teaspoon salt
1 cup cold butter, cubed
3/4 cup shortening
9 to 10 tablespoons cold water
Filling
2 tablespoons butter
5 cups finely chopped peeled tart apples
1/3 cup packed brown sugar
1/2 teaspoon cornstarch
1/8 teaspoon ground cinnamon
1 teaspoon lemon juice
1/2 teaspoon vanilla extract
1 large egg, lightly beaten
Coarse sugar
Directions:
In a large bowl, combine flour and salt; cut in butter and shortening until crumbly. Gradually add water, tossing with a fork until dough holds together when pressed. Divide dough in half; form each into a disk. Wrap separately in plastic wrap; refrigerate 1 hour or until easy to handle.
Meanwhile, in a large skillet, heat butter over medium heat. Add apples; cook and stir 5 minutes. Mix brown sugar, cornstarch and cinnamon; add to apples. Cook and stir until apples begin to soften and caramelize, 7-8 minutes longer. Remove from heat; stir in lemon juice and vanilla. Cool completely.
Preheat oven to 400°. On a lightly floured surface, roll one portion of dough to 1/8-in. thickness. Cut 12 footballs with a floured 4-in. football-shaped cookie cutter.
Transfer half of the footballs to a parchment-lined baking sheet. Spoon about 2 tablespoons filling onto center of each. Brush edges of pastry with egg. Top with remaining footballs; press edges with a fork to seal. Cut three slits in top of pastry and score a curved line on each end of the footballs. Brush tops with egg; sprinkle with coarse sugar.
Bake until golden brown, 15-20 minutes. While pies are baking, repeat with remaining dough and filling.
Let pies stand 5 minutes before removing to wire racks. Serve warm or at room temperature.
We hope these Super Bowl inspired recipes look as good to you as they do to us! Bon Appetit!
HoweIce is integrated into the food system
As the "Original" flake ice designed equipment, Howe has built its reputation on being an industry leader in food cooling equipment for product cooling applications! We're proud of the way our flake ice is so integrated into food production systems here in the United States and around the world. Learn more about why Howe ice is right for you.