Significantly Reduce Energy Use with Energy Efficient Refrigeration Systems
Attention Retail Industry Professionals! If you want to significantly reduce energy use, focus on energy efficient refrigeration systems - Howe Corporation can help!
Retailers Look to Reduce Retail Energy Use with Energy Efficient Refrigeration Systems & Other Measures
Over the last decade, retailers have been focusing on sustainability efforts such as making commitments to reducing food and packaging waste and eliminating emissions, but there has been an increasing focus on physical locations in recent years. This makes sense when you consider that, on a global level, buildings are responsible for 40% of energy consumption and 33% of greenhouse gas emissions.
Sustainable design for buildings is all about creating energy-efficient stores and warehouses. According to a 2022 report from the consulting firm McKinsey, energy consumption in grocery stores can be reduced by 30-50% if designers invest in modernizing lighting, refrigeration, heating, ventilation, air conditioning and cooling, and other energy-reducing measures.
In addition, food retailers have been searching for ways to offset their carbon use through power purchase agreements. At their warehouses, retailers, wholesale/distributors and suppliers are embracing more sustainable energy forms, such as the use of solar arrays and wind turbines.
Depending on the needs, size, and financial situation of the retailer, updating those systems can be done at different scales and through a range of investments. It's important for retailers to understand that improving energy sources can reduce operating costs while contributing to decarbonization – it's a win-win situation!
This is a great time for grocers to move ahead with sustainable energy choices because they have more options than ever as providers and partners continue to roll out innovative solutions.
Howe Corp Can Help Reduce Store Emissions with Sustainable Refrigeration Solutions
According to the U.S. Environmental Protection Agency (EPA), refrigeration can account for up to 60% of a grocer's energy use. As a result, many food retailers are moving toward greener energy solutions, including energy-efficient refrigeration systems, such as those with natural refrigerants like CO2.
At Howe Corp, we have been on the cutting edge of refrigeration for over 100 years. Our vision is to develop and deliver innovative solutions to refrigeration problems that improve global sustainability through energy efficiency, refrigerant selection, and novel design.
As the demand for low-GWP refrigerant technologies has continued to increase, a growing number of supermarkets are looking for equipment options that can be used with natural refrigerants. Howe Corporation is supporting this transition to natural refrigerants through several products that are compatible with natural refrigerant technologies.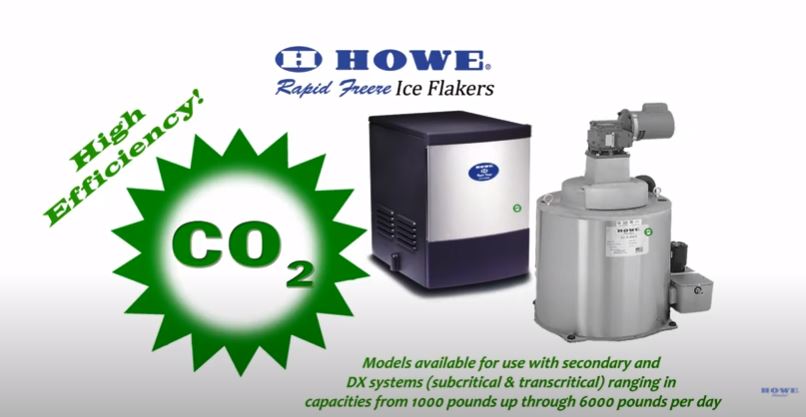 We have focused on innovation along with a commitment to natural refrigerants through our CO2 and ammonia compatible flake ice machines and ice bins. As an industry-leader, Howe Corporation has offered CO2 flake ice machines for the supermarket industry since 2009 and we continue to monitor the under 150 GWP market to adjust to your needs. In 2019, we joined the North American Sustainable Refrigeration Council to support their mission to "…address the barriers slowing the widespread adoption of natural refrigerants in supermarkets to create a more climate-friendly future for refrigeration."
Please contact us with any questions about how we can help improve your energy efficiency or shop our Ice Flakers.
FMI Energy & Store Development Conference
Join us at the 2023 FMI Energy & Store Development Conference, October 2-4, 2023 at the Hilton Baltimore Inner Harbor! This is an exclusive peer-to-peer event for food retail professionals passionate about energy, sustainability, and store design. It will be a great opportunity to network with industry experts and learn about how to improve retail sustainability:
Learn how grocery retailers are embracing sustainability trends in their physical locations to reduce energy consumption and greenhouse gas emissions.
Learn about the latest innovative solutions that can lower energy usage in grocery stores by 30-50%, from switching to modern lighting to improving refrigeration systems with natural refrigerants.
Explore strategies for offsetting carbon use and other cost-cutting approaches.
We are looking forward to meeting you! Register here today!