Why is Sustainability Important and How Can it Help Retail Stores Grow Sales?
Sustainability is important for the environment but it is also becoming more important to the food industry as savvy consumers demand sustainable products. Consumers expect food stores and brands to share their values and show their commitment to addressing sustainability issues in measures such as recyclable packaging and reducing food waste. More and more, sustainability is driving shopper decisions so the industry needs to be aware of shopper perspectives and make their sustainability goals a strategic priority.
How can Sustainability Help Retail Stores Grow Sales?
Desirable consumers care about sustainability
Even through this period of high inflation, FMI's latest data shows sustainability has been a consistently important factor influencing shopper decisions. According to FMI's U.S. Grocery Shopper Trends research, this should matter to retailers because the consumers most likely to be interested in sustainability are highly desirable shoppers for the food industry, as they spend more on groceries online and overall.
While "value" is important to consumers when buying groceries, sustainability plays a role in defining the modern perception of that term. Yes, consumers can choose the cheapest product but at the end of the day, is it a great value if the product is poor quality or harms the environment?
For some, an interest in purchasing sustainable products is tied to ethics. There are even apps that tell consumers which products were more ethically produced. Providing sustainable products draws in customers who believe their food choices should be ethical.
What the data says
According to FMI's 2023 U.S. Grocery Shopper Trends report focused on the Value Matrix, more than 30% of shoppers say they choose to shop at stores that prioritize sustainability through recycling/sustainability efforts and practices.
According to the 2023 Power of Seafood report, many seafood shoppers show interest in the issue of sustainability with almost half of these shoppers (47%) indicating that their seafood store's commitment to sustainable or environmentally responsible seafood is the primary or a very important reason in their decision about where to purchase items in this category.
Shoppers vary in which aspect of sustainability is important to them. While about two thirds of seafood shoppers (66%) point to at least one aspect of sustainability that impacts their seafood choice, 32% say they care about seafood being caught or raised in a way that ensures availability for future generations and 27% say they care that their seafood is certified as sustainable by a third party, for example.
Majority of food retail and suppliers implementing sustainable goals
Sustainability goals such as food waste reduction, package waste reduction, energy use reduction, and responsible sourcing, are not some "corporate responsibility" talking point anymore. More and more food retailers are taking concrete actions and setting implementation time frames to improve their sustainability efforts alongside a big increase in consumer interest, especially among younger shoppers.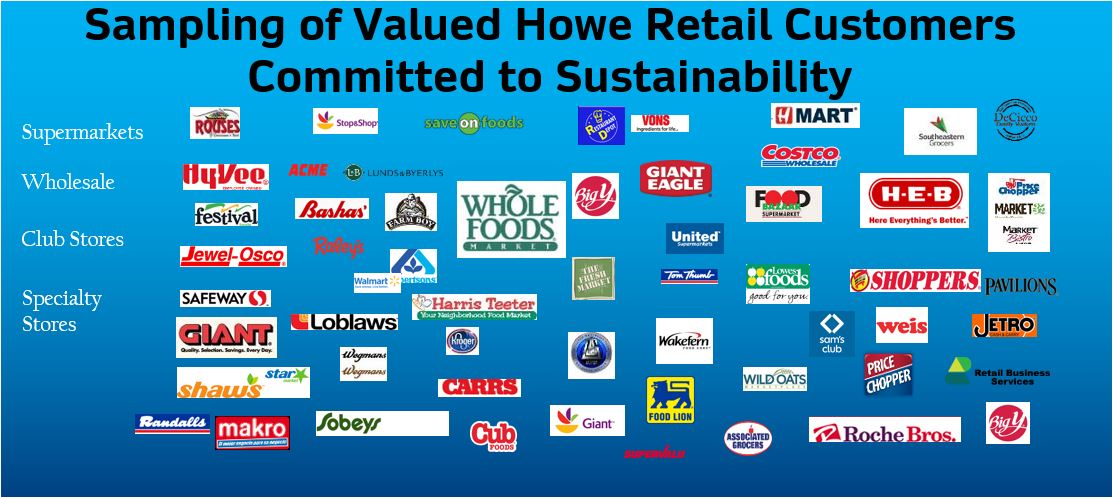 How does Howe Corp help food retailers with their sustainability goals?
According to the U.S. Environmental Protection Agency (EPA), refrigeration can account for up to 60% of a grocer's energy use, which means that energy-efficient refrigeration systems, such as those with natural refrigerants like CO2, are a great way for food retailers to reduce energy.
As the demand for low-GWP refrigerant technologies has continued to increase, a growing number of supermarkets are looking for equipment options that can be used with natural refrigerants. Howe Corporation is supporting this transition to natural refrigerants with our CO2 and ammonia compatible flake ice machines and ice bins.
As an industry-leader, Howe Corporation has offered CO2 flake ice machines for the supermarket industry since 2009 and we continue to monitor the under 150 GWP market to adjust to your needs. In 2019, we joined the North American Sustainable Refrigeration Council to support their mission to "…address the barriers slowing the widespread adoption of natural refrigerants in supermarkets to create a more climate-friendly future for refrigeration."
Please contact us with any questions about how we can help improve your energy efficiency or shop our Ice Flakers.
FMI Energy & Store Development Conference
Join us at the 2023 FMI Energy & Store Development Conference, October 2-4, 2023 at the Hilton Baltimore Inner Harbor! This is an exclusive peer-to-peer event for food retail professionals passionate about energy, sustainability, and store design. It will be a great opportunity to network with industry experts and learn about how to improve retail sustainability:
Learn how grocery retailers are embracing sustainability trends in their physical locations to reduce energy consumption and greenhouse gas emissions.
Learn about the latest innovative solutions that can lower energy usage in grocery stores by 30-50%, from switching to modern lighting to improving refrigeration systems with natural refrigerants.
Explore strategies for offsetting carbon use and other cost-cutting approaches.
We are looking forward to meeting you! Register here today!